Reports 2018
Newcastle Protest Rally
Trump & May: No More Bombs on Syria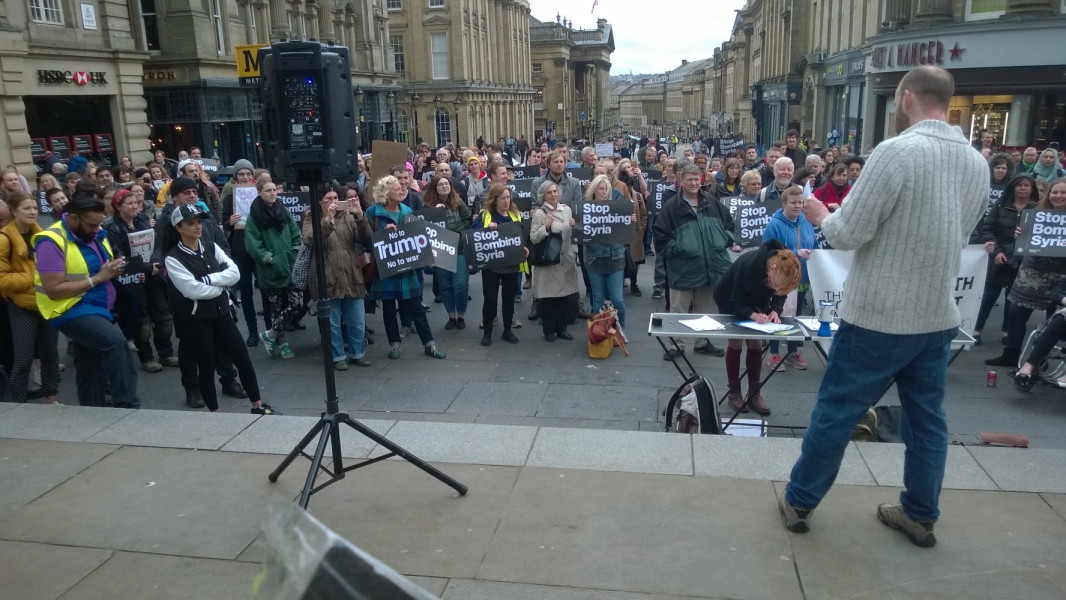 Jamie Driscoll speaking at the protest
On Tuesday April 17 2018, over 200 people attended a Newcastle Stop the War Coalition protest at the Monument, Newcastle to condemn Trump, May and Macron's bombing of Syria and call for no more bombings. The protest was chaired by Tony Dowling and speakers were Conor McArdle - Unison, Ann Schofield - Newcastle city councillor, Jamie Driscoll - Northern Regional Organiser, Momentum, Mollie Brown - North East People's Assembly Against Austerity, Pam Wortley - Sunderland Stop the War and Roger Nettleship - convener, Newcastle Stop the War. Finally Ron Brown - a singer song writer sang for the protest., Newcastle Stand Up To Trump.

Speaking at the event Newcastle Stop the War said that; "we say today to Trump, May and Macron as we said to Bush and Blair this is 'Not in our Name'. That's why we need to build our Stop the War committees here in Newcastle and the north east with the necessity to fight for an anti-war government in Britain."


Speech by Roger Nettleship NSWC
---
Why We Need and Anti-War Government Tour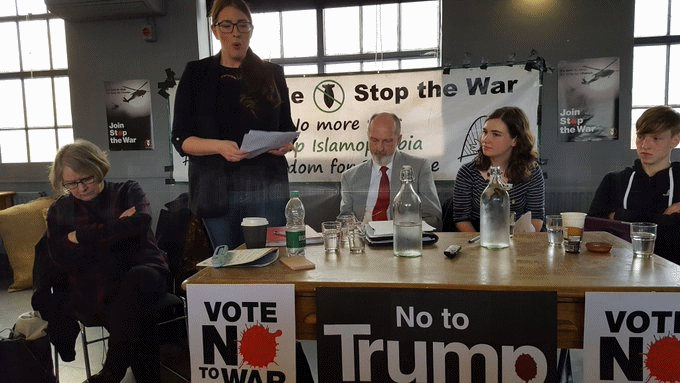 Speakers: Laura Pidcock MP, Dave Webb CND, Charlotte Austin YL,
Declan Mulholland YL and Lindsey German speaking at the meeting
On Saturday February 3, Newcastle Stop the War hosted a public Meeting in Newcastle St Georges Social Centre as part of the "We Need an Anti-War Government tour organised by Stop the War. Speakers Laura Pidcock MP for North West Durham, Dave Webb CND national chair, Charlotte Austin Young Labour, Declan Mulholland Young Labour and Lindsey German Stop the War convener addressed a packed meeting of 60 people which was then followed by lively contributions and questions from the people present. The meeting was chaired by Newcastle Stop the War convener Roger Nettleship. The meeting called on people to join stop the war and build the anti-war movement to fight for an anti-war government in Britain as our contribution to ending the crimes of the Anglo-US powers abroad and defending the rights of all in Britain. With permission of the speakers the recordings of their contributions are below.

Roger Nettleship - Opening remarks
Laura Pidcock MP
Dave Webb CND national chair
Charlotte Austin Young Labour
Declan Mulholland Young Labour
Lindsey German Stop the War Convenor

---
Join Stop the War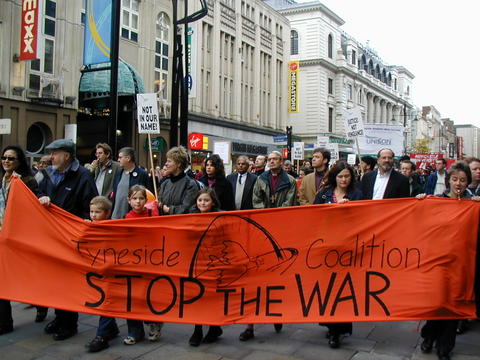 Newcastle demonstration against the invasion of Afghanistan, October 2001
You can join and/ or donate to the Stop the War
Coalition: Here (National Website)
To keep informed or Join in the work here in the North East